BABLE Smart Cities was featured in the Loveable Neighbourhoods Best Practice guide! Read more to find out which BABLE projects and Use Cases have been featured.

ENGAGING COMMUNITIES TO COMBAT CLIMATE CHANGE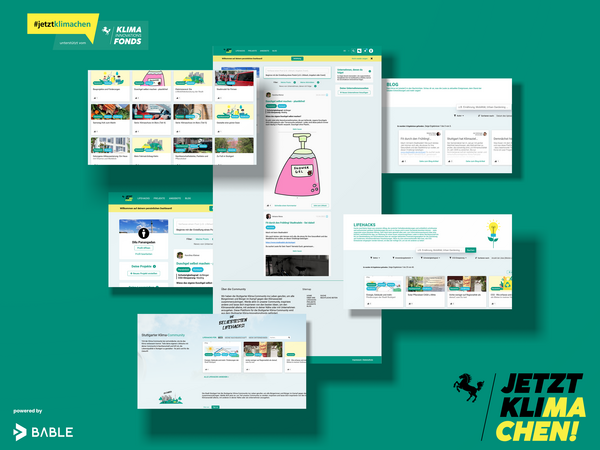 The climate crisis is urgent and dire. Three-quarters of adults in Great Britain are worried about its impacts, according to the Office for National Statistics, with helplessness a major theme in the responses. But how can local authorities inspire their citizens? The city of Stuttgart in Germany is using a digital platform to engage and enable its citizens to act – without depending on the municipal administration for lengthy approval procedures or coordination. The platform for the Stuttgart Climate Community was developed to promote and enable open innovation for its citizens, with a view toward the municipality's sustainability goals. Citizens and businesses can post-climate "life hacks" or ideas for ways to act that the community can then build on. By sharing lesser-known or unconventional steps with a broad community, the impacts are multiplied on a scale that otherwise would not be possible. Community platform members can start and join projects, and members can use the platform to share insights and earnings to show others what has been tested and already done toward improving the climate and environment.
The lessons of these projects are also made available along with a way to contact and directly learn from the experiences of those involved, ensuring that they can be replicated and improved upon in other parts of the city.
The city helps coordinate these initiatives by publishing permits and making them easily accessible, promoting funding opportunities, and building cooperation tools to enable citizens to implement climate protection projects themselves. This platform is geared toward Stuttgart's citizens and their needs, but it can easily be replicated and adapted to meet the unique needs of any council. The platform was engineered by the team behind the BABLE Smart City Platform, which is home to a community where cities from all over the world share their lessons from innovative projects, learn from a database of expert-curated advice for solutions, utilise tools for benchmarking and matchmaking, and connect with companies offering innovation in a wide variety of city-relevant sectors

AACHEN: USING AUGMENTED REALITY TO RE-IMAGINE A STREET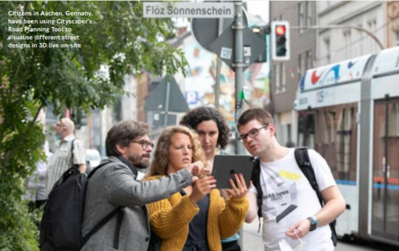 The city administration in Aachen, Germany, wants to address traffic problems on a road in the city centre and has developed multiple feasible scenarios. To enable citizens to participate in the urban planning process, the Road Planning Tool from Cityscaper is used to display the different scenarios in 3D live on-site.
This is looking at a range of options, such as a one or two lane street, a wider bicycle lane, or more trees instead of parking spaces. These scenarios are based on demands from citizens who have different likes and dislikes. To find the most suitable option, the city asked for help to display these complex scenarios as vividly as possible and to stimulate an interactive discussion between various stakeholders. Citizens are able to see different scenarios on-site and in real time to reduce misunderstandings during the planning process. The following aims were drawn up:
Develop different scenarios for the street
Display scenarios on site and in real-time
Stimulate discussion between all stakeholders to find the most suitable option and to reduce misunderstandings.
To achieve the formulated goals, Cityscaper's augmented reality applications were used. In close collaboration with citizens and the city administration, multiple scenarios were developed that mirrored the interests of the biggest stakeholder groups. While most citizens demanded a wider bicycle lane and more trees, others asked for better parking opportunities. Using the Cityscaper app, citizens were able to access these scenarios on their own smartphones and to walk through the street. Based on these visualisations, the city was able to: let citizens participate more actively; foster a fact-based discussion without any misunderstandings; and to find the most suitable scenario for all stakeholders.
By displaying the various alternatives, citizens were much more eager to participate in the urban planning process, which in turn improved the decision-making process. The complexity of the project was also greatly reduced, which led to a fact-based discussion.
ENERGY AND MOBILITY CONCEPT FOR A NET ZERO GARDEN VILLAGE
Part of the Local Energy Oxfordshire (LEO) project aimed at developing the local transition to a net zero energy system. A feasibility study on a net zero carbon development at Salt Cross Garden Village in Eynsham, Oxfordshire, was supported by a simulation of the future energy demand (see below).
The project involved the development of 2,200 homes, a science park, a school, a health centre and a park & ride. Urbanomy simulated the future energy demand of the buildings and vehicles, assessed the solar potential, and quantified the flexibility from residential thermal storage, batteries and electric vehicles through V1G/V2G.
The potential revenues from services connected to the transport and distribution grid were assessed to support the business case. A scenario-based approach was also adopted to define the best energy and mobility scheme to reach net zero, between a decentralised, centralised and hybrid system. The outputs provided key insights for the overall energy demand, self-consumption, peak demand reduction potential, bill savings and revenues. Benjamin Mousseau, CTO & Partnerships at Urbanomy, said: "Urbanomy's study for the Salt Cross Garden Village is a first of a kind considering all the aspects of the energy system to support the ambition of creating a net zero development. "All the value chain is taken into account, up to the potential revenues of local flexibility to ensure residents will benefit from reduced bills and the local infrastructure will not be constrained. This is a unique way to prepare for a non-fossil future and draw an efficient and fair energy system."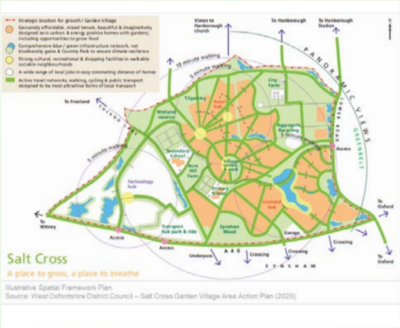 DECISION SUPPORT TOOL FOR SHARED MOBILITY OPERATORS

In Madrid, Spain, shared mobility services offer shared on-demand vehicles that can be booked and used by citizens through mobile apps. Car sharing, moped sharing, bike sharing and e-scooter sharing services stand out as an often cleaner alternative to private car use, as most of the fleets deployed are electric. Despite their outstanding growth, these services still struggle to achieve profitability, hindering their financial sustainability. Hence, operators need to improve the efficiency of fleet deployment and management strategies. A tool by Nommon Solutions leverages the large amount of data collected by shared mobility operators, which continuously monitor the position and use of their vehicles, thus acquiring an accurate description of the actual demand of the services. These datasets can be combined with other data sources able to describe the context in which this demand is captured. This is key to developing predictive models that are applicable beyond the current operation area, so that demand forecasts can be produced for supporting strategic decisions (e.g. implementation in a new city).
Two modules are included to produce tailored indicators and support the decision making processes of operators. First, a strategic planning module informs about how major modifications in the service (e.g. change in fleet size, expansion or reduction of the service area, implementation in a new city) would change service KPIs, such as trips per vehicle rates or service revenues.Second, an operation management module indicates which areas require certain actions to ensure supply availability in the next few hours depending on the demand expected by the models, to enable the optimisation of charging and maintenance procedures. The KPIs can be visualised in a dashboard that allows operators and authorities to test different scenarios and analyse the impact of their decisions. The tool can have a significant impact on the efficiency of shared mobility operations. Also, the operation management module enables operators to anticipate demand surges in certain areas of the city, which is a relevant input for prioritising charging and maintenance actions.
CITIZENS SCIENTISTS MONITOR TRAFFIC AND AIR POLLUTION

The EU-funded WeCount 'citizen science' project enables citizens to take a leading role in measuring road traffic and air pollution in their neighbourhoods. Traffic is at the core of a variety of societal problems ranging from road safety, air, noise, and light pollution to public health risks, to the liveability of communities. Gathering reliable road traffic data is fundamental to understanding the complex relationships between these problems and road traffic, and to initiate policy changes that will address them. In the past local authorities have relied on spatially and temporally limited traffic counting techniques which are also high cost. A more comprehensive picture is now forming thanks to local people collecting data. The WeCount project works with residents in six cities: Dublin, Cardiff, Barcelona, Madrid, Leuven, and Ljubljana. It uses citizen-centric data collection to change the way traffic data is produced and utilised.

n Dublin 'citizen scientists' across the city, including locals from Smart D8, Smart Balbriggan and Smart Docklands, are getting involved. Volunteers have installed low cost, automated road traffic counting sensors on their windows to count cars, trucks, bicycles and pedestrians on local streets (pictured above).
The WeCount project aims to:
Empower citizens to use new technology such as sensors to collect data and evidence about their communities. This can enable citizens to shape and influence local policy decisions and initiatives, and also builds community knowledge on issues relating to our local environment.
Use the traffic data collected to produce scientific knowledge in the field of mobility and environmental pollution. Work with communities to design solutions to tackle road transport challenges.
Share traffic data with councils to inform transport planning and support data-driven decision-making
Francesco Pilla from University College Dublin said: "WeCount is a European project that enables citizens to initiate a policy-making process with fully automated measurement data in the field of mobility and air quality. "The idea is to empower citizens by giving them sensors to collect hard data about what is going on outside their homes, because people often have strong opinions about transport or mobility issues in their area but do not have the evidence to drive the change they want to see."